This is the next in our series on EMF protection clothing. And this might be the most important article! As a mom of two, I wish I would have had some of these clothing options when I was pregnant.
As you probably know after being on this site, distance is always your best protection when it comes to radiation exposure. Since that can be challenging – just think about the RF exposure when you walk into a coffee shop, consider some maternity clothing that adds a little extra peace of mind.
A full guide to radiation protection clothing can be found here if you'd like to read more about how EMF protection clothing works, why it's necessary and more. In this article, we're jumping right into the maternity clothes.
| | Radiation Blocked | Styles | | |
| --- | --- | --- | --- | --- |
| DefenderShield Pregnancy EMF Protection | 99% EMFs Blocked | Belly band, blanket | | |
Importance Features to Consider When Choosing
Your little bundle of joy deserves the ultimate in protection from EMF exposure, so look for maternity clothing and other protective products with the following characteristics.
Effectiveness
Always aim to select anti-radiation maternity clothing that blocks up to 99% of radiofrequency waves to get the highest level of protection. They should block frequencies in the 0 to 10 gigahertz range, including 5G networks.
Look beyond their claims as well for proof of their products' effectiveness in the form of third-party lab results. You can only enjoy true peace of mind after viewing the lab reports yourself and seeing how well their products work.
Comfort & Fit
Since pregnancy itself can often leave you feeling uncomfortable, comfort and fit is paramount when selecting maternity clothing.
The shirts, bands, and other items should fit around your growing belly all the way up to the 40-week mark.
Plus, they should be made from the softest breathable fabrics around, including bamboo and cotton blends.
Style
You do not have to give up your sense of style while pregnant nor when seeking anti-radiation maternity clothing.
Lace camisoles, ruched t-shirts, and V-neck tees all let you maintain your sophisticated styling all the way through your pregnancy.
If those items do not meet your style needs, then get a belly band instead, which you can wear under any clothing you wish.
Cost
To best block EMF radiation from reaching your growing baby, anti-radiation maternity clothing uses proprietary fabrics.
Each company produces these fabrics by weaving silver through the other materials to create an effective shield.
They often charge a lot more for each clothing item as a result, so they can recoup the costs of research and development along with the silver itself.
Care or Washability
The proprietary fabrics don't just cost more, they require a little bit of extra care as well. You cannot just throw them in the washing machine without a second thought, after all.
Instead, many need to be hand washed or put in the washer on the delicate cycle alongside similar fabrics.
Almost all need to air dry to avoid shrinkage and keep the silver fibers in great condition.
Quality & Durability
When properly care for, EMF protection maternity clothing easily stands up to the test of time.
You can wear the items through your entire pregnancy, then put them away for when you decide it is time to have another.
You can also pass them on to your friends and family to help them protect their little ones as they grow and thrive in the womb and beyond.
Keep all these things in mind as you explore the many high-quality options available on the market today. The first on tap is the Belly Armor product line by RadiaShield. They have a variety of EMF protection maternity clothing options that we will outline here.
The second is the DefenderShield belly band and blanket lineup. Let's dig into the options now!
The Best EMF Protection Maternity Clothing
Whether you want a belly band or blanket to drape across your bump, you have many brands to consider, such as:
DefenderShield Pregnancy EMF Protection & Anti-Radiation Belly Band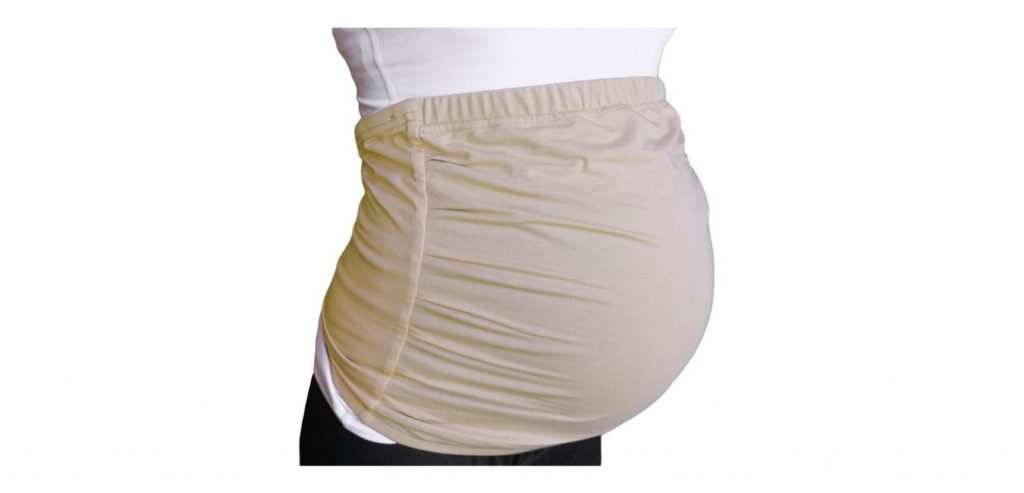 The DefenderShield EMF Protection & Anti-Radiation Belly Band promises to protect your growing baby from up to 99% of radiofrequency radiation. The EMF shielding materials at the front and sides work up to the 10 gigahertz range, even providing protection against 5G.
As an added benefit, the band is so comfortable that you are sure to forget you are wearing it as you go about your day. The organic cotton and bamboo fabric feels incredibly soft to the touch, while the elastic and ruching gently hugs your belly hour after hour.
The band works for everyone who wore size two to ten prior to becoming pregnant. The material stretches to accommodate bumps up to 44-inches around, easily making it your go-to EMF shield from the start to end of your pregnancy.
Features
Offers protection against 99% of EMF radiation
Organic bamboo/cotton blend fabric
Stretches up to 44-inches and fits pre-pregnancy sizes 2-16
Easy to put on and take off
Stays in place all day
Drawbacks
Higher price point
Only comes in one color
DefenderShield also offers a very highly rated EMF Protection & Anti-Radiation Blanket that might work well when you need more flexibility.
DefenderShield EMF Protection & Anti-Radiation Blanket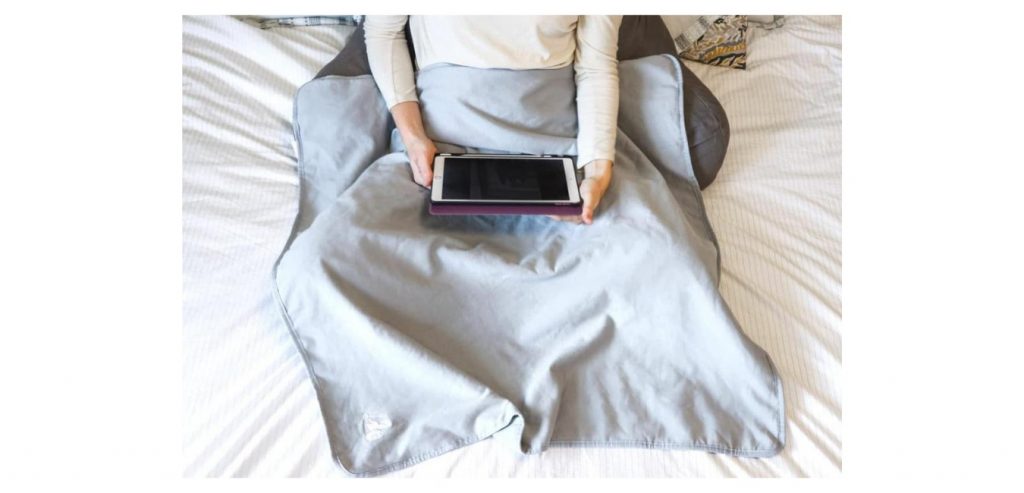 With the DefenderShield EMF Protection & Anti-Radiation Blanket on your side, you can keep your precious little one shielded from radiofrequency waves whenever you need protection most. Choose between the standard 36-inch by 35-inch size or go with the full size, which spans 75-inches to 53-inches.
Either way, you will love to cuddle up with the 100% organic bamboo blanket that feels incredibly soft and luxurious. Its lightweight construction ensures it never feels too hot as you rest with it draped over your bump.
With its specialized shielding layer, this blanket conducts and absorbs up to 99% of EMF radiation to keep it away from you and your baby. The shield works against radiofrequency waves in the 0 to 10 gigahertz range, even blocking frequencies from 5G networks.
Features
Blocks 99% of EMF radiation
Comes in two sizes
Made from organic bamboo
Flexible coverage for your bump
Lightweight and comfortable
Drawbacks
Higher price point
Hand wash recommended
How DefenderShield EMF Protection Works
Both the belly band and blanket from DefenderShield works using their advanced shielding material. Using proprietary materials, their shielding layer conducts and absorbs radiation to keep it from traveling through the air and into your body. Then, the material lets the EMF emissions dissipate without agitating your atoms nor impacting the health of your baby.
Through that process, their shielding material blocks up to 99% of high frequency EMF radiation, including 5G, and 98% of low frequency waves. They confirm their claims with independent testing and provide a full report you can review at your leisure.
Everyone of us uses cell phone and often carry the device in pocket. But we should keep protection from cell phone radiation because it's harmful to pregnant females and babies. And if you need to use laptop on daily basis then get a radiation shield (Check more about it).
As you buy any, or all, of these anti-radiation maternity products, you can protect yourself and your little one from EMF radiation in style. Just make sure to follow the care instructions for each one to keep them in good shape through your entire pregnancy and beyond.
Read more articles in this series: