Last modified on February 4, 2022
This is another in our series on EMF protection clothing. This article will address something you probably haven't thought about – shoes! We won't be spending much time talking about the dangers and health effects of EMF radiation. This article digs into those details so check it out.
Without further ado, let's jump into it.
| | Style | Picture | Colors | |
| --- | --- | --- | --- | --- |
| Shield Apparels - Signalproof Sneakers (Unisex) | High top | | Gray/black | |
| Shield Apparels - Signalproof Sneakers (Unisex) | Low top | | Gray/black | |
In a hurry? These is the BEST EMF protection shoes on the market today:
Shield Apparels is pretty much the only kid on the block. But if you're looking for a casual shoe, these are a great option! These stylish, canvas shoes are effective and a good all around shoe.
Silver shielding fabric blocks up to 99% of EMF radiation
Unisex and a wide range of sizes
Comfortable fit and durable canvas material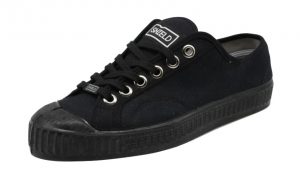 Important Features to Consider When Choosing EMF Protection Shoes:
Effectiveness
Anyone can claim that their shoes provide EMF protection, but what really matters is whether or not they prove it. Manufacturers should provide some sort of inside or outside test results that highlight effectiveness of their products. That way, you can rest assured that your shoes protect your feet from radiation exposure, no matter where you go.
Comfort & Fit
When buying shoes, comfort and fit is of utmost importance to keep you light on your feet all day. Otherwise, poor fitment could leave you with blisters and sore feet, making it difficult to protect your entire body from EMF exposure. So, always take the time to try on the shoes when you receive them and send them back if there is any doubt about their fit.
Style
In order to protect your feet from EMF exposure day in and day out, you need shoes that go with most all styles of clothing. They should be casual, yet attractive, ensuring they work well with everything from jeans to sundresses. Neutral colors help as well, as low-key tones go with most everything and keep the focus on the rest of your outfit.
Cost
To shield your feet from EMF radiation, the fabric on the shoes must contain a hefty amount of silver. This material is not cheap, however, which drives up the cost of the shoes. You can expect each pair to run in the $80 range, though shipping costs might be included if you purchase over the given minimum.
Quality & Durability
What good are a pair of EMF protection shoes if they just fall apart? The shoes should have upper materials that connect to the soles without fraying or ripping. And the soles should stay intact through mile after mile of adventures.
Unfortunately, there's only one reputable company that manufacturers EMF protection shoes. Luckily, for us, they're a great option. Let's dive into the details now.
The Best EMF Protection Shoes
Shield Apparels is the only brand currently creating EMF protection shoes that block up to 99% of radiation.
Their shoes come in two distinct styles and in two colors. Although they look like plain canvas sneakers in low and high top styles, their material is actually a lot more impressive.
Inside the shoe, they have their silver shielding fabric that blocks both high and low radio frequency waves. Since they have silver throughout, the ions also help eliminate bacteria to keep the shoes odor-free.
Besides the silver mesh, they are made from soft cotton that is tightly woven for strength and durability. As a result, they are machine washable and known to stand up to intense physical activity without issue.
Since Shield is a European company, they list all their products in euros by default. You can easily change to USD currency with the switch at the top of their website. You can also use the sizing guide on the product page to find your perfect fit. Upon taking those steps, you can start budgeting for these shoes to make sure you always have a pair or two on hand at any given time.
Shield Apparels – Signalproof Sneakers – High Top
The High Top style Signalproof Sneakers by Shield Apparels extend right up to the top of the ankle for full coverage protection. They come in a wide range of sizes from 4 to 12 and in either black or light gray tones. They have natural rubber soles with an inner layer of silver and top made out of cotton.
Shield Apparels – Signalproof Sneakers – Low Top
The Low Top style of Shield Signalproof Sneakers have the same construction and characteristics as their high tops. The difference is that the uppers are cut below the ankle for a more casual look. They are also a little bit lighter and cooler than the high top option.
Features
Shields feet from 99% of EMF radiation
Durable 100% rubber sole
Soft cotton upper for a comfortable fit
Odor-free due to the antibacterial properties of silver
Suitable for sports and other high-intensity activities
Drawbacks
You cannot try on the shoes before buying to ensure a perfect fit
If you measure between sizes, you have to round up
Only available in two styles and colors
How the Shield Apparel Signalproof EMF Protection Shoes Work
The same innovative silver fabric used in Shield's hats and clothing makes an important appearance in their shoes as well. They use their silver shielding material to construct the inner part of their shoes to provide your ideal level of protection.
Acting as a Faraday cage, the silver mesh reflects EMF radiation away from the body, keeping it far from your tissues and atoms. The silver goes beyond protection from radiofrequency waves to also help keep bacterial growth at bay. The metal ions move past the bacteria's membrane and start to attack its structure to kill it off before it grows. This keeps the shoes odor-free through every wear even with intense physical activity.
What Customers Say
The shoes are both stylish and comfortable
EMF protection from head to toe definitely makes a difference
Their quick service is really appreciated
Although you only have a couple options, it is easy to equip yourself with EMF protection shoes. Just use the on-page guide to find your ideal size, then submit your order for a pair to see how they fit.
Keep reading in this series: best underwear for EMF protection, hats and beanies, and t-shirts.