If you're here, you're already aware of the electromagnetic radiation bombarding our bodies everyday. If you'd like a full guide to why EMF radiation protection clothes are necessary, ready our full article here
This guide is intended to focus on the best radiation protection underwear on the market today. So let's jump right to it!
We're looking for some effective emf blocking material that can save our reproductive organs from massive emf radiation and its affect. These materials absorbs radiation and have anti bacterial properties for whole day use.
In a hurry? These are the BEST EMF protection undies:
The Lambs Radiation-Proof Boxer Briefs, also available as trunks, are the best all around option for Faraday underwear. They offer a high percentage of silver – 39% and maintain a super soft feel with 44% cotton and 17% polyester. Their lab tested, Wave Stopper Technology blocks 99% of cell phone and wifi radiation. Feel comfortable leaving your cell phone in your front pocket with these EMF shielding underwear on!
BEST EMF Protection Underwear – MEN'S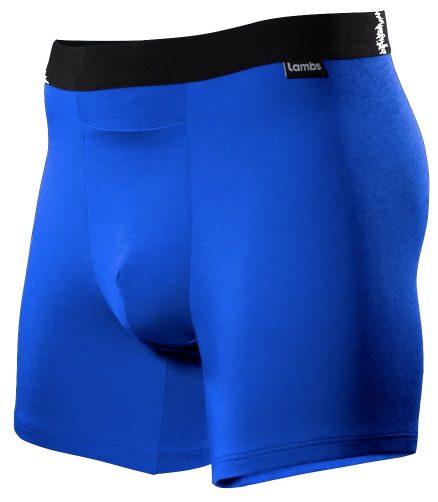 Blocks up to 99% of wireless radiation (3G, 4G, 5G, Wi-Fi, Bluetooth) using their WaveStopper technology
Super comfortable – soft, no roll waistband available in sizes S – XXL
Free shipping available, free returns and 30 money back guarantee
BEST EMF Protection Underwear – WOMEN'S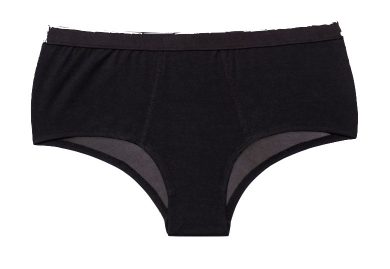 Blocks up to 99% of wireless radiation (3G, 4G, 5G, Wi-Fi, Bluetooth) using their WaveStopper technology
Super comfortable – soft, no roll waistband available in sizes XS – XXL
Free shipping available, free returns and 30 money back guarantee
Important Features to Consider When Purchasing EMF Protection Underwear
Effectiveness
If the underwear don't provide EMF radiation protection, what's the point?
Silver is the common metal used in EMF protection clothing because it's soft (flexible), with high electrical conductivity and antimicrobial properties. So generally, you want to look on the listing or packaging for a higher level of silver.
Some of these companies take it to the next level and offer independent product lab testing to prove their effectiveness.
These lab tests can involve varying levels of frequencies (MHz) then complete several shielding effectiveness tests on the fabric, such as a noise floor measurement, direct measurement, dynamic range, and steel panel isolation. At the conclusion of these robust tests, the lab can provide an "effectiveness" percentage.
It should provide complete protection and should have shielding features. We all know that excessive radiation exposure makes sperm count lower and fertility rate goes down with time.
The best EMF protection clothing companies will publish these results so you feel confident the underwear you're purchasing is doing its job.
Comfortable
If the underwear fold over at the waistband or ride up your legs, you're not going to wear them. If they're itchy, hot or have a bad fit, you're not going to wear them.
Not wearing EMF protection underwear provides zero protection from radiation. So comfort is a top consideration.
Sizing
This is pretty common sense but some companies don't sell a full spectrum of sizes. Also, be sure to check out sizing charts. A "large" from your current brand may not be the same size across brands.
Price
EMF protection clothes run more expensive than clothes at the local retailer. The most obvious reason for this is the silver. Silver, while ideal for EMF attenuation, isn't the cheapest. And the most effective underwear at blocking EMF radiation are those with the higher percentage of silver.
But! That shouldn't mean you need to take out a small loan to safely carry a cellphone in your front pocket. Our top rated underwear are also among the most competitively priced. This is just a guess but they're likely benefitting from economies of scale. The more they sell, the more bulk pricing becomes an option, lower costs, etc.
Anyways, we always consider cost in our rankings. So check them out below.
The Best – EMF Protection Underwear
Everything we recommend
| Name | Sizes | % Silver | Pricing | Purchase |
| --- | --- | --- | --- | --- |
| Men's - Lambs Faraday Boxer Briefs/Trunks | S - XXL | 42% | Reasonable | |
| Women's - Lambs Faraday Cheeky Brief | XS - XXL | 39% | Reasonable | |
| Shield Apparels Signalproof Boxer Briefs | S - L | 35% | Reasonable | |
| Shield Your Body SYB Boxer Briefs | M - XL | 42% | Expensive | |
After considering the options on the market today, we'll take a deep product by product look at the best on the market.
Lambs Faraday Boxer Briefs
Lambs Faraday Boxer Briefs offer the best of all worlds. Highly effective at blocking EMF radiation, comfort, sizes from small to XXL and the best prices. In fact, the higher quantity, the cheaper each pair becomes.
If you prefer a trunk without a fly pouch, Lambs has Radiation-Proof Trunks also.
Features:
99% EMF attenuation – 360 degree silver fibers (more on this below)
Soft – 39% silver, 44% cotton, and 17% polyester
Breathable, no roll waist band, and antibacterial
Cost effective
Women's Lambs Faraday Cheeky Brief
Lambs released a line of women's EMF protection clothing, including these Faraday underwear. These offer the same EMF protection from wireless radiation. Offering comfort, sizing from XS to XXL and machine washable, these are a great option.
How Lambs EMF Protection Works
Lambs provides laboratory tested Wavestopper technology. Wavestopper technology, according to the Lambs website works by utilizing a conductive wire-mesh material. Electromagnetic radiation (EMF) cannot pass through holes in conductive materials that are smaller than their wavelength.
This conductive material is silver. As we've discussed extensively, it is a highly conductive material that is also soft and antimicrobial, so it's ideal for clothing.
When radiation meets the conductive wire-mesh material, it's reflected to the outside instead of permeating the material.
Lambs utilizes this technology by sewing the silver inside the cotton to provide the wire mesh radiation shielding.
How Effective Are They?
The great news is you don't have to just take their word for it. Lambs tested their EMF technology in the same lab that certifies NASA space suits.
Read the full report here.
Wavestopper technology is lab tested to provide 99% EMF protection from microwaves, which includes wifi radiation, bluetooth, and very importantly, radiation from cell phones.
What Customers Say
100% of customers on the Lambs website would recommend these products to a friend. Some consistent remarks about them include:
Comfortable with a good fit – not too tight and not too loose
True to size
High quality and durable
Machine washable
A customer also noted they would like to see them in the color white. Right now they're available in black, blue and red.
Shield Signalproof Apparel Boxer Briefs
Next on our list are the EMF underwear from Shield Signalproof.
These underwear are also effective at blocking EMF radiation, comfortable, and offer slightly fewer sizes from Small – Large.
Features
99% EMF radiation attenuation
Soft – 45% Cotton, 35% Silver, 20% Polyester
Antibacterial and anti odor
European sizing
Cons
Lower percent of silver in fabric
Ships from Europe (they do offer worldwide shipping but the order minimum might be higher to qualify for it to be free)
No discounts for ordering in bulk
A note about these underwear is they're designed in London. If you'd prefer a European fit – and sizing, these might be for you. They have a shorter inseam so they ride higher on the leg.
If you're American, be sure to check out the size chart and translate as necessary to inches.
How Shield Signalproof Apparel Works
Their underwear are made of a silver fabric that attenuates EMF radiation. Their site says their fabric blocks frequencies from 10 MHz to 6GHz. This covers a wide range of wireless frequencies, which generally range from 700 MHz (4G) to 850 MHz (new 5G).
So not only can you keep your cell phone in your front pocket, you'll be protected when 5G rolls out from coast to coast.
Further, the underwear don't have a pouch so you're receiving 360 degree from this product.
You will notice that these underwear do contain a lower amount of silver in their product, 35%. So although they do still offer that their underwear attenuate 99% of EMF radiation, it would be great to review an independent lab test of the claim.
An interesting side note about this company is they are funded via Kickstarter. Kickstarter is a funding platform where people with ideas can present their ideas or products. The general public can then offer funding to the products they think should be made, or back them. Signalproof started as a Kickstarter. Clearly, people see a need for this kind of EMF radiation protection.
What Customers Say
Unfortunately, there isn't a review section on the Shield Signalproof website.
Shield Your Body (SYB) Boxer Briefs
Last but not least are the SYB Boxer Brief underwear.
Shield Your Body or SYB is a high quality brand that manufactures their underwear in Canada. They're effective at providing EMF radiation attenuation, and offer a good range of sizes from a medium to XL.
Features
Up to 99% EMF radiation attenuation
Soft – 42% silver, 53% cotton, and 5% nylon
Anti-microbial, anti-bacterial and anti odor
Lab tested & lifetime warranty
Cons
The sizing of these EMF underwear ranges from medium (32-34) to x-large (40-42). Another note is this company stands behind their product. They offer 30 day returns and a lifetime warranty. The major downside to these underwear is the cost. They're a premium brand at a premium price.
How SYB Protection Works
SYB is a company that focuses on the science of EMF radiation and how to most effectively protect yourself with top-quality products. These underwear are no exception.
Similar to other products reviewed here today, SYB products work by creating a mesh of conductive material. Again, this is silver. The highly conductive nature of it makes this an effective method of reflecting the EMF instead of it passing through to your body.
These underwear include 42% silver.
SYB also ensures complete wrap around coverage to deflect EMF. It's good to know they don't have a front pocket, which is part of the 360 degree coverage.
How Effective Are They?
SYB offers that their underwear provide EMF attenuation effectiveness of between 15 and 35.9 dB tested between 15MHz to 40GHz. As mentioned earlier, this encompasses the frequencies of 5G. So 99% attenuation can be achieved.
SYB says their products are lab tested but after a search, I cannot find a copy of the actual report to confirm these numbers.
What Customers Say
Some of the remarks on the SYB website include:
Soft and comfortable – not too tight but might be a little loose around the leg
Good fit
Expensive
Relieve for the EMF radiation attenuation
Where Are the Women's EMF Blocking Underwear?!
That's an excellent question! Where are the women's EMF protection underwear?
Finally, in 2020, Lambs addressed this and put out a line of great women's underwear.
Wrapping it Up
EMF and EMF radiation is all around us. Cell phones in front pockets are particularly prevalent and we hope the products here will protect you and your loved ones from EMF radiation in places where EMF radiation shouldn't be for your health! Right now these products focus on men but women's products are on the way.
I hope this article is helpful to you and I'll be updating it as more radiation blocking technology hits the market.
Read next: check out this article more information on the full range of EMF protection clothes.